Redefine Performance with Automation
Process Automation Platform made for Professional Services Firms to automate operational areas that work in tandem with their core business solutions. With Century Software BPM, firms can achieve complete automation within and between departments who otherwise work in silos – like Finance, Marketing, HR, Firm Administration and core practice areas. Bring it all together with seamless integration and point apps for a digitally progressive firm.
WHY CPAs NEED BPM/WORKFLOW SOFTWARE
Custom Apps for End-to-end Business Automation
Select the desired workflow apps to suit the automation needs of your firm. Break-free from software-packages that promise business transformation but offer no flexibility, expensive customization and hold your data hostage.
BPM solutions from Century Software cater to all administrative processes and core departmental processes specific to the firms needs
Ultimate Flexibility in Terms of Integration
We understand the time and effort invested in selecting your core software solutions. This is why Century Software BPM is built with the capability of integrating to any core solution you may have in place or plan to choose in the future. We firmly believe firms should have the freedom to select best-of-breed core solutions and still have a fully integrated environment with process automation.
With Century Software BPM, you can change/upgrade your core solutions without losing control of your departmental and firm wide processes and workflows.
Full-control of All Your Business Data
Change request for firms can be extremely expensive or available only on scheduled releases especially with hosted solutions. With Century Software BPM you will have full access to your data and workflow processes. Authorized personnel can change or enhance any workflow within minutes and not wait months for the next release.
When considering a hosted core solution or suite, it's always prudent to find out if there is a cost to accessing or connecting to your own data
COMPLETE PROCESS TRANSFORMATION
Century Software BPM is exclusively designed to cater to the data, workflow and automation needs of CPAs.

Data Integration with
Professional Software
Automate
Business Workflows

Complete
Process Transformation
A CLOSER LOOK AT CENTURY SOFTWARE BPM
Mainstream operational activities of businesses need point process apps to deliver seamless productivity. Century Software BPM for CPAs allows you to build custom workflows to track, optimize and scale performance in real time. With BPM, you control how people, processes and assets are connected to yield desired business results.
Interconnected Platform for Firms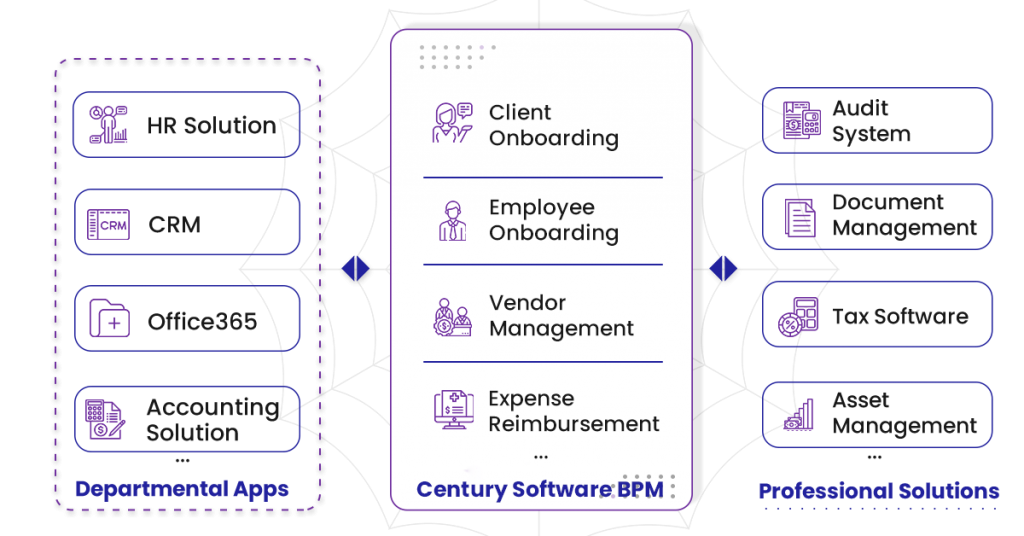 APIs that integrate with any core system or vendor app for better flexibility
Freedom to choose and easily switch between best-of-breed vendor apps of your choice
Deploy on the Cloud or On-premise
Do you use CCH® Professional Software?
Century Software BPM Integrates with both CCH® ProSystem fx and CCH Axcess™ Suite.
Download the brochure to find out more.
Century Software Apps for CPAs
Century Software BPM Apps are built with custom APIs to easily integrate with your core business systems. They are designed to automate processes and exchange data between systems to allow smooth flow of information from various departments of your organization.

client
onboarding

employee
onboarding

expense reimbursement

talent
acquisition

it service management

vendor
management

accounts
payable

cpa practice
apps
Century Software BPM is a visual platform with ready-to-use apps that can be customized to suit the operational needs of your business. The visual interface makes the solution intuitive and easy to use for non-technical professionals. Apps can range from customer onboarding, resource management, accounts, vendor management and more. Transform your processes with complete automation. Take a look at how it works.
Are you struggling with manual processes? BPM can help you digitize your workflows.